Will University Graduations Go Ahead?
Editorial by Rupert Forsythe, CEO
Over the weekend there was an article in the Daily Telegraph with the headline "Will University Graduations go ahead?"
It was pleasing to read something for which I'm remotely qualified to comment! The simple answer is 'yes'.  Graduation is recognised as the culmination of years of hard work by students and years of support and love from friends and family.  That will never change.
The question is more about how the experience is delivered in the uncertain times in which we find ourselves. I have worked with graduation ceremony organizers across the world for over 25 years and I speak to them every single day of the week. All of them are wrestling with how to deliver the very best experience they can for those graduates that have not been yet been recognized from 2020 and for those who are due to graduate in 2021.
Without exception all the ceremony coordinators that I speak with are planning for more than one eventuality. Fully virtual events, hybrid events, socially distanced events, full in-person events, drive-in events and a myriad of other possible solutions. But graduates and their loved ones should be under no illusion that the determined will of all the institutions I speak to across the globe is that they want to do the very best they possibly can with the tools, regulations, and the circumstances at their disposal.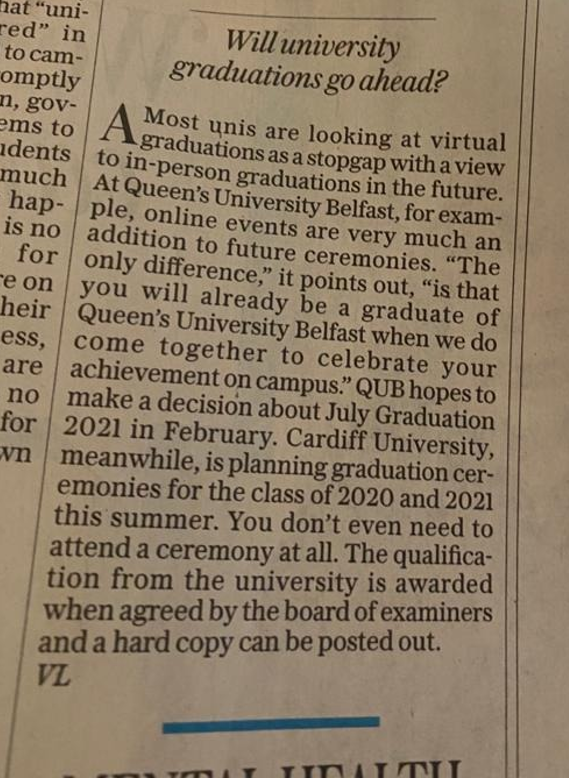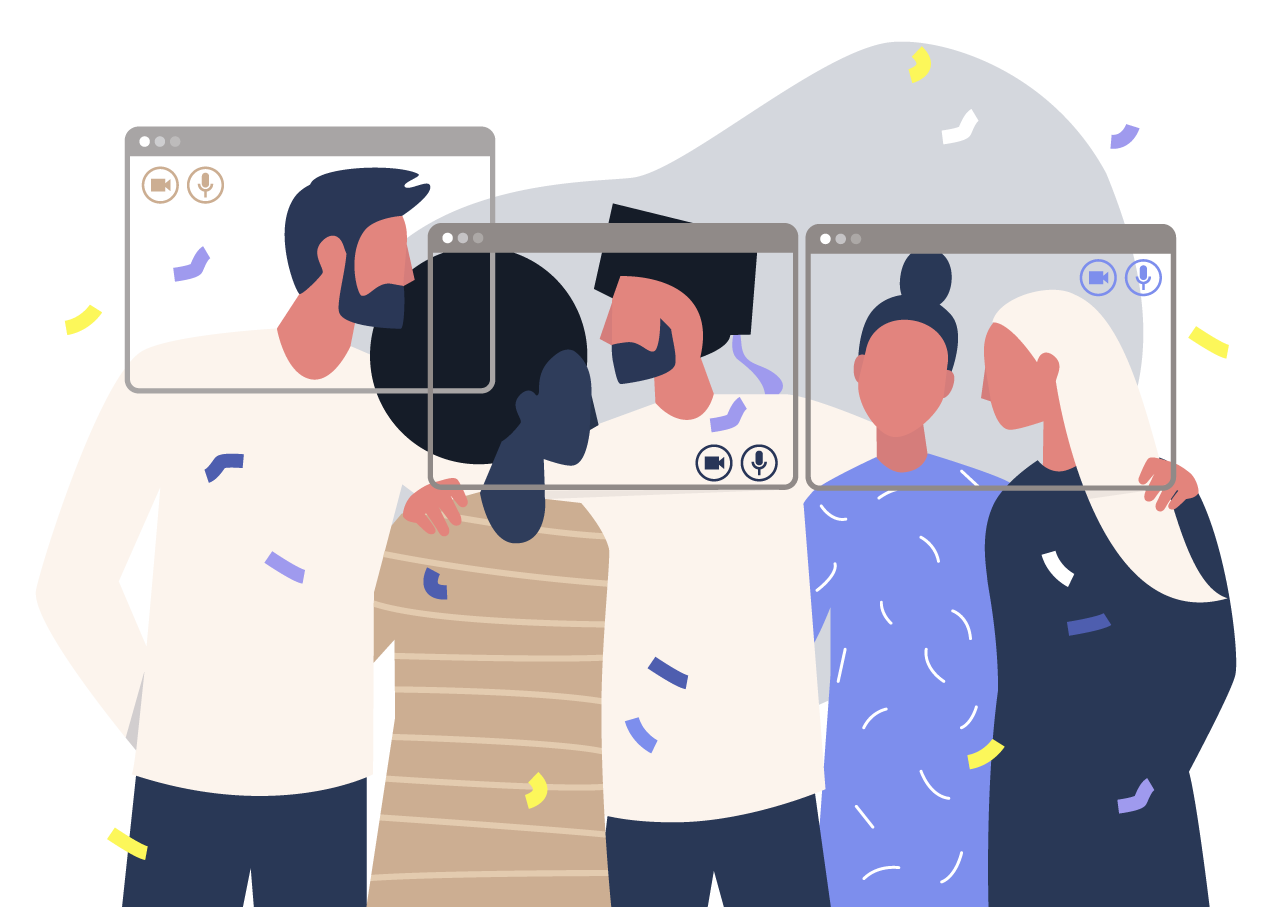 What is interesting is that the future of ceremonies and University marketing has evolved forever. And in my view, for the better. Even those institutions planning for in-person events are keen to ensure there is a virtual element to what they do. Nothing can replace an in-person event experience but what we have learned is that you can enhance that experience with a digital offering that expands and extends the live event experience into the online landscape. An event is no-longer a few hours for those that were there.  The experience is for all, it's global and it appears in future timelines too just to remind us of the significance of the moment.
For example, up until 2020 very few institutions organized recognition for their in-absentia students. If you couldn't make it to the venue, then no special dispensation was made.  You might get a long-winded live stream but that was about it.  And if you were an international student, getting up at 3am to watch an event for which you were not included didn't exactly thrill.  Now most of the institutions that I talk to want to offer in-absentia celebration ceremonies online that can be viewed at any time, so student's, friends and family are made to feel special and included. 
Savvy institutional marketers know too that by embodying inclusivity, they're connecting their brands to emotion and engendering loyalty for future generations.  Word-of-mouth recommendation is the strongest brand advocacy, and the peer groups of graduates are vital to feed the student recruitment pipe.  In today's world, word-of-mouth means social media sharing within peer groups.  Every graduate is an influencer for an institution.
Every graduate is an influencer for an institution.
In a survey by Herff Jones in Spring 2020, 77% of graduates said the most important thing to them was sharing their achievement with loved ones.  Hundreds of institutions have capitalized on this by giving their graduates individual recognition clips to share with friends and family. Over a million graduates last year received recognition this way.
Institutional marketers also know they have a significant advantage over their commercial colleagues.  They don't have to spend enormous sums with advertising agencies, production companies and influencer agencies to get reach and engagement in the right networks. Universities have access to the holy grail of digital marketing.  Recognition clips from companies such as ours are cheap, highly personal and on-brand.  Most importantly these curated clips are genuinely and authentically shared in graduate peer networks with engagement 10x that of paid influencers.
They key to all of this is putting the graduates front and center of the experience.  Institutions are recognizing that lauding plaudits over the good and great at institutions has its place but it is not the primary focus it once was.  And just as in the commercial world it is digital content that's king.  Student generated content wins hearts, minds and event interest.
Most institutions in the United States have followed a format where the individual personality and flavor of their graduates has taken center stage. Typical in-person ceremonies are filled with speeches from College hierarchy and can drone on without inspiration whilst a student is barely recognised in a few seconds by hearing their name called as they walk across the stage to receive a fleeting handshake. At large universities in the US this means that students get as little as two seconds recognition time on stage.
The emphasis on virtual experiences has flipped this approach as student recognition is given prominence and airtime.  The highlights of this are heartfelt student submitted messages, photographs and selfie video.  90% of these submissions are tributes to those that helped them achieve.  It's heart-warming and the public recognition of thanks to supporters and loved ones has been received with immense gratitude. You just don't see this at in-person ceremonies.   This has created a vibrancy and personalization not seen before in the graduation space and this trend is likely to continue even when the world opens up again.  Many of the clients I talk to want to use that same content in live ceremonies when the chance arises. As a graduate walk across the stage the audience can see a 5-10s tribute video on the big screen or their photo and personal message of thanks.
Our company, StageClip, has proudly produced over 1,500 ceremonies for Universities, Community Colleges and high schools across the globe and given those personal moments to the loved one's of over a million graduates.
The StageClip platform enables ceremony organizers to collect, collate and present graduate content as individual clips and in virtual ceremony processions.  Graduates hear their name being called, they see their name alongside the personal messages, photos and selfie videos they have contributed. Organizers upload pre-recorded speeches, music, prayers and anthems etc. and the StageClip system renders a full ceremony.
As we enter Spring 2021 our content is being re-packaged and re-purposed to support graduation organizers so they can maximise experiences for virtual, in-person and hybrid events.  The future for student-centric ceremonies is bright!
Request a Call
Plans Change. Be Ready!
Request a virtual graduation ceremony quote below: