Why Alumni Engagement Is Important
Colleges and universities with strong alumni involvement are the most successful. When alumni lead fulfilled lives with worthwhile careers, they're more likely to look favorably at their time in college. This creates a mutually beneficial relationship where the school provides alumni networking opportunities for future success, making grads more likely to donate to and invest in university programs.
How You Can Improve Your Alumni Engagement Efforts
Schools should try their best to foster great relationships with their alumni. There are many alumni engagement best practices to get grads feeling connected with their universities again, like:
Connecting your alumni with your social media communities
Keeping alumni informed through updates, newsletters, publications, or podcasts
Partnering with your development office and call center to consolidate outreach
Inviting notable alumni to participate in panels, seminars, and mentoring opportunities
Conducting surveys to gather essential data and quickly engage alumni
The 10 Best Questions to Ask in Your Alumni Surveys
A well-made alumni survey is one of the best methods for promoting alumni engagement. Surveys are a powerful tool for multiple purposes, like gathering hard-to-get contact information, getting relevant feedback, and collecting data about education and job satisfaction.
But survey data only works if people are willing to participate. Most alumni teams are happy to see 20-40% response rates on their surveys, but with the right questions, those numbers can double. To get the best feedback, higher educational institutions should develop useful survey questions that grads want to take the time to answer, and provide the right incentive to complete the survey. We've listed 10 of the best alumni survey questions we've used successfully with our partner schools.
1. What Industry Are You Working or Interviewing In?
Schools need to keep track of the industries their alumni gravitate towards. This type of data is crucial for institutional research that determines which educational programs they should prioritize. If the school has found success in nurturing graduates who've become nurses and doctors, for example, this talking point is something else it can promote to prospective students.
2. What Is Your New Address, Non-"EDU" Email, and Phone Number?
Since most graduates stop using their university emails soon after leaving the school, lots of valuable information, like event notices and university updates, can fall through the cracks. If your data is outdated, you fail to reach thousands of alumni. Each alumni survey should include a section where grads can update their contact information.
While most schools should have portals allowing alumni to update their contact details on their own, schools should still try other methods for gathering information. Even some of the most active and engaged alumni can get sidetracked by work and daily living and forget to update their info.
3. Have You Accepted a Job Offer? If So, How Long Did it Take for You to Find Employment Before Graduation?
This survey question is great for fostering transparency among alumni, which is helpful for schools. Recent graduates may struggle with finding employment right after earning their degree. The responses from this survey question can give schools a bit more insight into which degree programs produce students who have an easier time finding a job and which don't.
Your Career Center is likely asking this question in their career outcomes survey, so join forces to gather critical data together. Plus, schools can observe economic trends like recessions and consider how much of an impact they've had on their graduates.
4. What Are Your Preferred Pronouns?
Surveys are a great opportunity for graduates to update their preferred pronoun usage in further university communications. Not only is this an inclusive gesture, but it also increases the likelihood that graduates will be more responsive to future outreach efforts from their alma mater.
5. Where Are You Moving To?
Schools ask this question often because it allows their regional alumni engagement coordinators to reach out to them. Many alumni offices throw "Welcome to the City" socials to connect new alumni to grads who are already living in the city and boost networking opportunities.
This location-based question also gives the school a pipeline for building up its alumni chapters in each city.
Are you worried about engaging your new alumni with your current data?
Keep them connected with personalized virtual graduation clips.
Get Started With A Demo Clip
6. Are you planning to attend Grad School? If So, Where—And Why?
Graduate school enrollment rates are ideal for measuring data like acceptance rates and post-baccalaureate enrollment. Schools love seeing alumni continue to pursue their education after undergrad, especially when they choose the same institution. This question is a key touchpoint for your graduate school admissions team and a selling point for your undergraduate admissions office.
If an alum indicates they're in grad school but chose to go with another university, give them room to explain why they made the decision. Regardless of the reason, whether it's location, finances, or dissatisfaction with your school, you should take notice.
7. What is Your LinkedIn Handle or Professional URL? Please Share Below.
Allowing graduates to share their social media handles is a great opportunity for schools to keep up with alumni outcomes and easily foster connections. This provides a springboard to invite grads to networking groups, affinity groups, or other social media channels to increase the flow of communication to grads.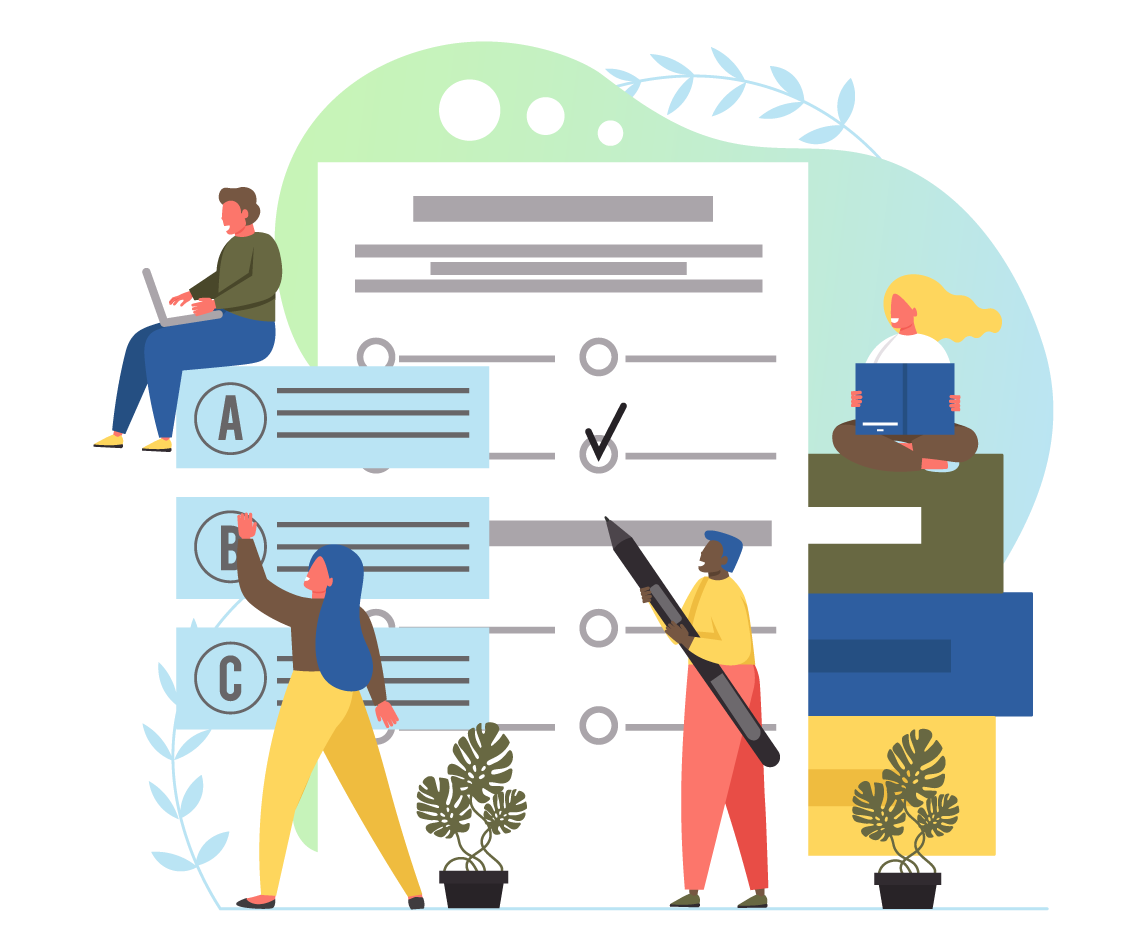 "Capturing a grad's non-university email address is the most effective way to start engaging them as an alum.
8. Would You Like To Share Your Student Experience With Other Alumni?
One of the best ways to evoke fond memories of your school is to ask the alum to remember the best parts of their experience. Whether it was a sport, club, fraternity, or sorority, you can foster engagement and help the grad feel more connected to the school. This is also a valuable point of market research for your admissions office as they share the pride points of the university with new students.
Give your graduates room to tell as much as they would like! Be sure to include options for long text fields and add a "contact me for future updates" box for them to check.
9. How Would You Like to Contribute Your Time, Talents, or Resources to Help Future Students?
Getting new alumni to start thinking about how they can contribute their personal and professional assets to the school is an excellent way to foster engagement. Alumni who consistently share their time through volunteering, mentorship, and service projects typically feel much more connected to their university than the average graduate.
Additionally, alumni who display their talent via internships and job shadowing and those who find it necessary to contribute financially to the school tend to have been positively impacted by their time at the institution. If an alum indicates they have a personal interest in the continued success of the school's current and future students, it's a good sign.
10. Would You Like to Receive Updates From the Alumni Association?
Ensure your alumni are fully in control of the communications they'll be receiving from your university. Provide multiple options for how and when they'll get updates —whether it's via email, phone, text, or mail.
Additionally, this question provides legal consent to ensure your communications comply with specific privacy laws.
Take Advantage of StageClip's Alumni Surveys Feature
At StageClip, we help your graduates and their families relive their most cherished memories with personalized graduation clips. Our alumni surveys are integrated into our graduation videos, enabling your grads to share how happy they are to be an alum. While your alumni get to make memories to last a lifetime, your institution gets an increase in alumni engagement.
We're all about delivering results. Conducting a survey in-house could result in 15-30% completion rates, while our surveys have proven results of up to 93%. That's three to five times higher than the standard. And why is that? Because graduates want their personalized video, they're more than willing to answer a few easy questions to get it.
Trying to find ways to improve your alumni engagement strategy?
We'll help lighten the load. Contact us today for personalized graduation clips and alumni surveys.
Contact Us