10 Tools for Increasing Graduate Engagement
Whether you're engaging 50 graduates or 50,000, we're ready to help.
What did we learn in 2022? The number one focus for graduation planners and university marketers is leveraging student-created content.
This isn't news for us – we learned over the last five years that a personal and individual experience focused on the graduate is what resonates best with grads and their families.
Here are the 10 top tools for increasing graduate engagement for your upcoming ceremonies!
Short on time? Skip ahead to the topic you're most interested in:
Key Insight:
"Graduates want to contribute actively to their ceremonies rather than participate passively." 
Key Action Item:
Gather student submitted content to engage audiences.  Use the content in a variety of ways before, during and after the event.   
Key Takeaway:
Create the biggest impact you can with the least amount of burden on your time using the data and assets you already have.
Highlight Graduate Content
Big screen entertainment audiences love!
We all cherish the spotlight on the ones we love.  By gathering graduate content and playing it on the big screen as the audience waits for the main event, they're already more emotionally engaged.
Use the same content in your pre-event marketing too!
How can StageClip help? – We have an easy way of collecting, curating, and managing student content so you get maximum effect for minimum effort.   All you need is a graduate list and we do the rest!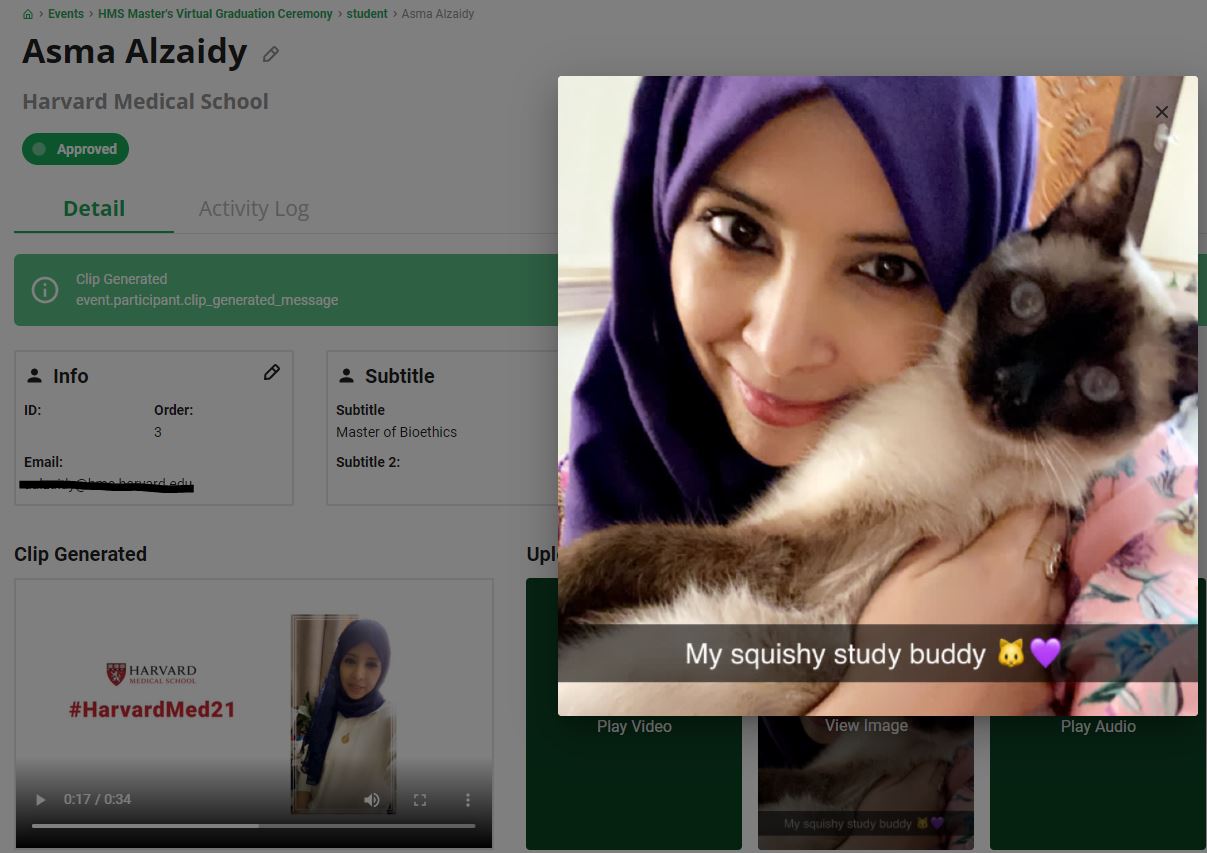 Personalize the Experience with Slides
Show slides of each graduate as they walk!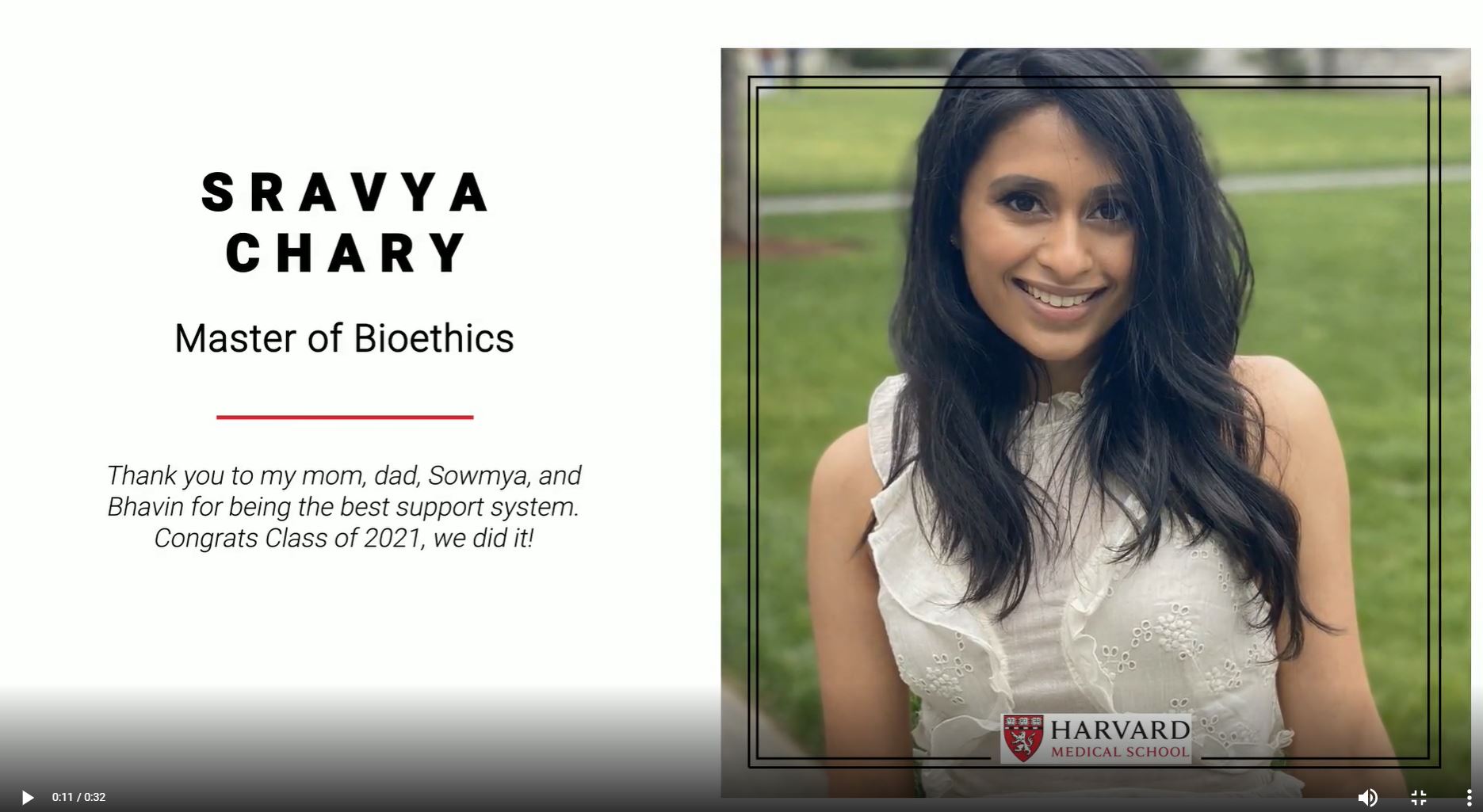 Give an added level of attention and personalization to each graduate by showing a slide featuring their name, degree, and photo as they walk.
How can StageClip help?  Slides are activated on a barcode scan so it's the right graduate every time.   We collect the content, produce the slides and provide the scanning.  All you need is a graduate list and we do the rest!
Get the names right!
Pronounce names correctly every time
The single biggest disappointment for a graduate and their family is hearing their name said incorrectly.  Along with incorrect spelling, this causes the biggest upset and literally ruins the day for families.  The rest of the event experience can be faultless, but get this wrong and it's all for nothing.
How can StageClip help?  The graduate pre-approves their pronunciation, your readers hear it beforehand and repeat it correctly.  Your readers can even pre-record names and have them announced on scanning as the graduate walks across the stage.  All you need is a graduate list and we take care of the rest!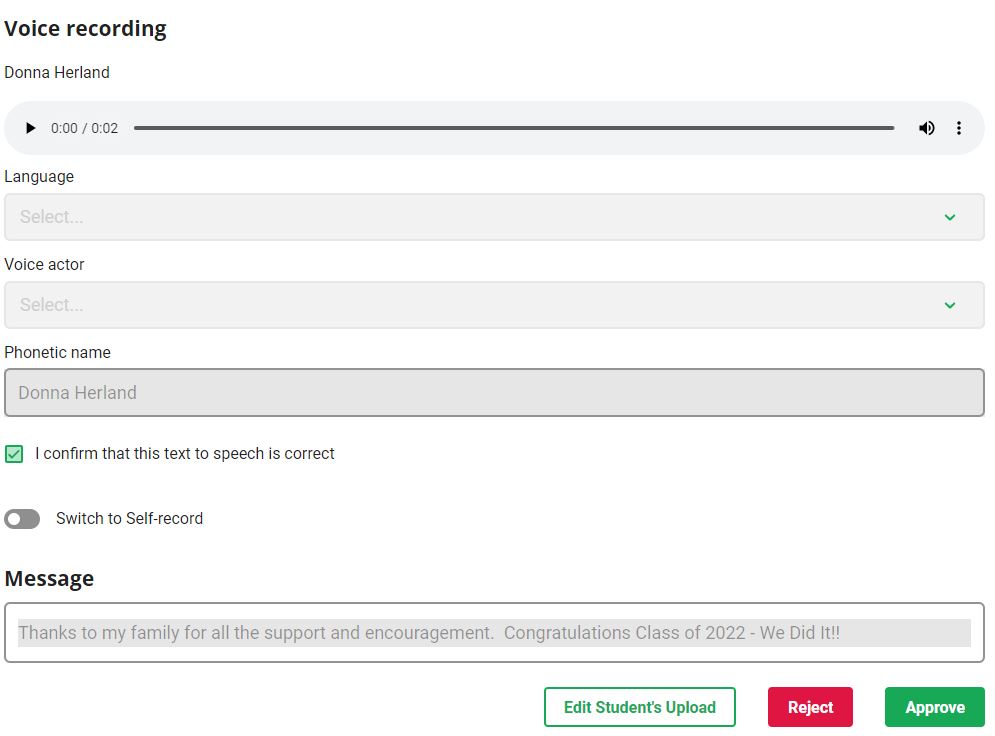 Continue to Live Stream Ceremonies
Engage a global audience
If you're not doing this already then it's an absolute must for maximum audience engagement.  Remember you could have an online audience that's bigger than your in-person audience.  Your event needs to be TV-friendly and engaging.
How can StageClip help?   We have relationships with AV teams, videography companies, and streaming platforms.  We've always happy to share details.  Just ask!
Commemorate Grads' On-Stage Moment!
Engage alumni and new students. Build your brand
In the 21st century, this is the holy grail for engagement!  In a survey conducted by Herff Jones, the single most important thing for graduates (over 70%) was to be able to share their moment with friends and family, instantly.  The data speaks for itself.
At March 2022 – 73.43% of clips created are shared and each share garners on average 257 views.  This excludes LinkedIn where average views are over 7,000.
Instagram – Sharing engagement is 10x that of a paid influencer (16% vs 1.6%)
And for marketing departments the ROI is compelling:
Traditional agency viral video campaign to achieve 250k views =$85k
StageClip campaign to achieve 250k views = $10,200
Average cost per click across all industries on FB is $1.72 .  Average cost per click on StageClip – $0.02
How can StageClip help?   All you need is your logo, a graduate names list, and a video from your ceremony and we do the rest!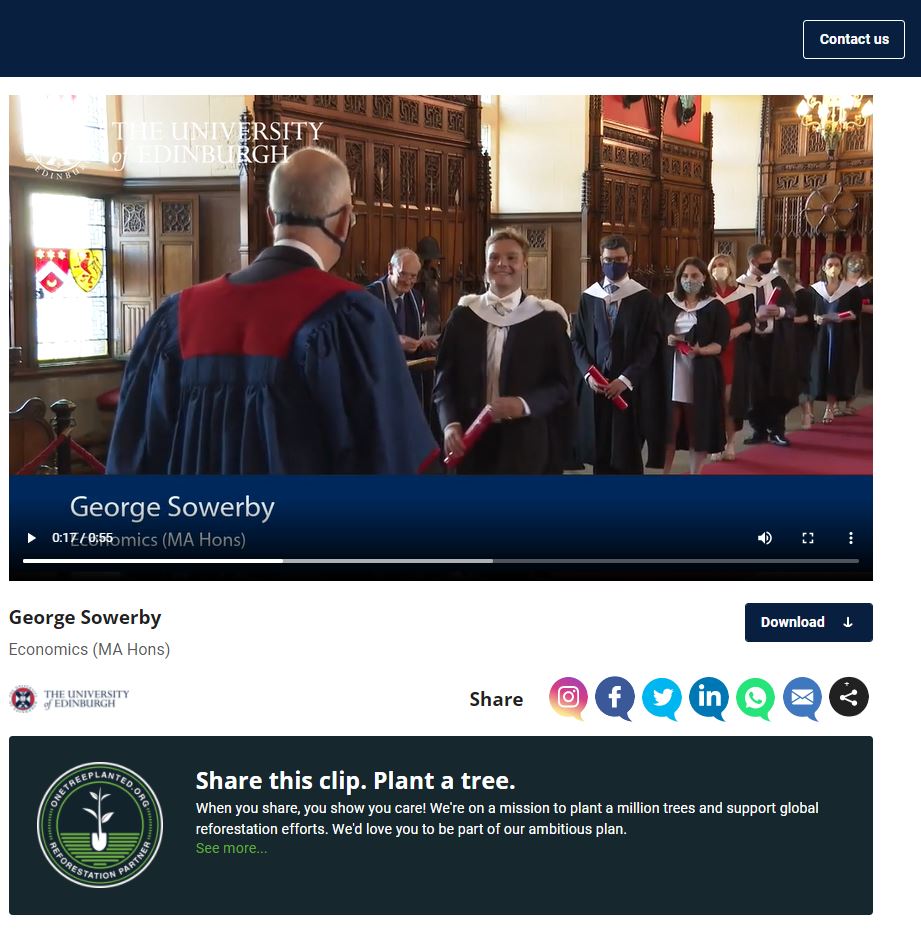 Focus on Inclusivity, Diversity, and Belonging
Celebrating your in-absentia graduates is essential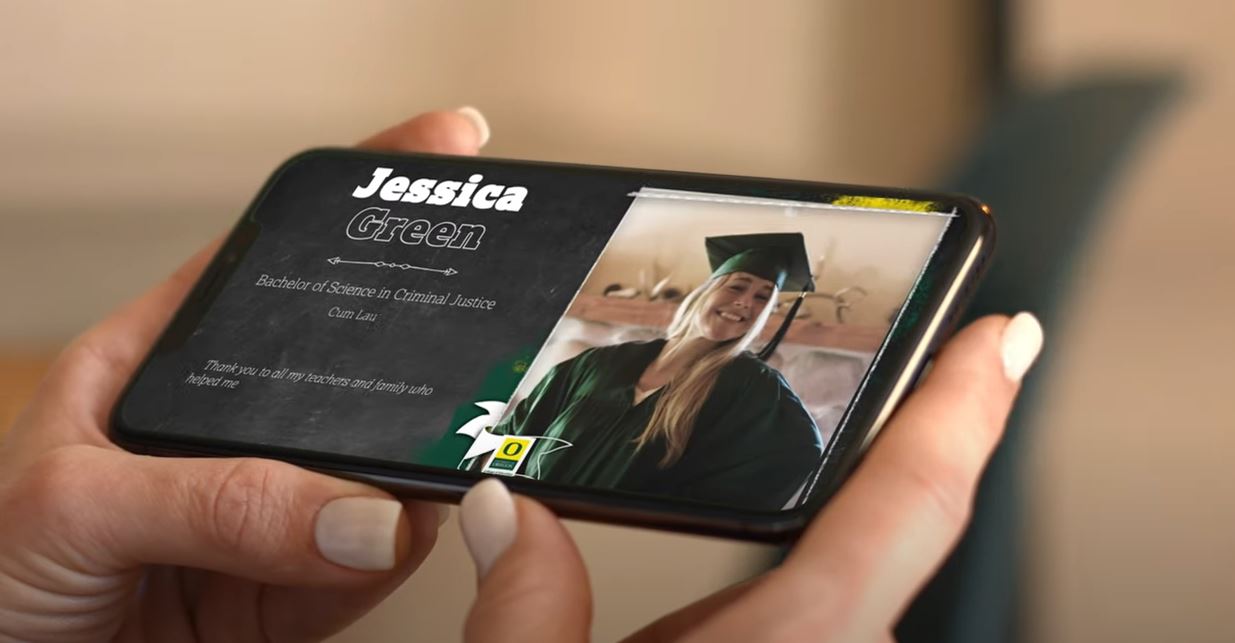 In the past, if you didn't attend your ceremony your achievements weren't ceremonially acknowledged.  Now there are many companies offering ways to create online ceremony recognition.  It's a sure-fire way to increase positive engagement right accross the spectrum and for many institutions, it ties into their core missions –  belonging, inclusivity, and diversity.  You can create separate ceremonies online or include in-absentia graduates as part of your in-person experience.
How can StageClip help?   We use all the same graduate content you've already collected and re-purpose it to create online experiences.  All you need is a list of graduates!  You can include pre-recorded elements and even speeches etc. from the in-person event.  This is all managed on our easy-to-use platform and you have a dedicated client success manager to help you along the way for hassle-free production.
Build Affinity with a Meaningful Gift
Digital gifts give insight, metrics and performance
Many alumni teams give gifts to graduates.  But how many truly know the ROI on gifting a mug, pen or merchandize?   What kind of impact do these gifts have except on your logistics, finances, and the environment?
The truth is it's virtually impossible to know.  What we do know is that gift-giving is fundamentally human and creates the right emotional connections with audiences.  Fortunately these days, digital gifts can give you the metrics, insight and ROI required.   E-gift vouchers and other digital items enable detailed tracking.
How can StageClip help?   An on-stage moment clip is an ideal gift.  It's a one-to-one connection at the most personal level with your alumni.  There are no storage, logistics, or ethical considerations.  You can engage even those who aren't at the ceremony with graduate content clips and you can garner valuable feedback through surveys.  It's all trackable and you can see the power of your spending.  And the best part is that you only need two things you have already – a names list and a graduation video.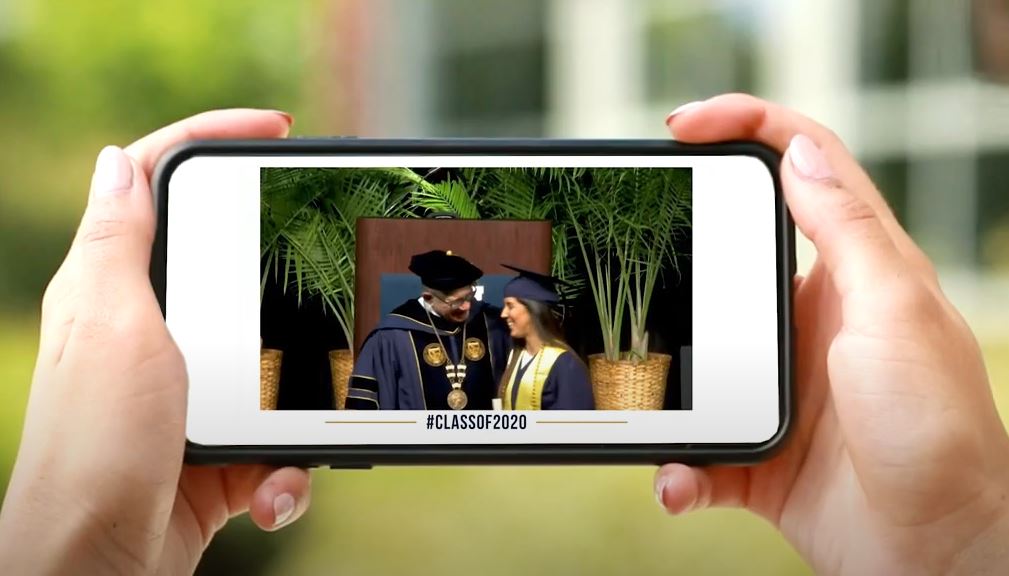 Gather New Alumni Data While Excitement is High
Engage grads relevantly, on their terms with surveys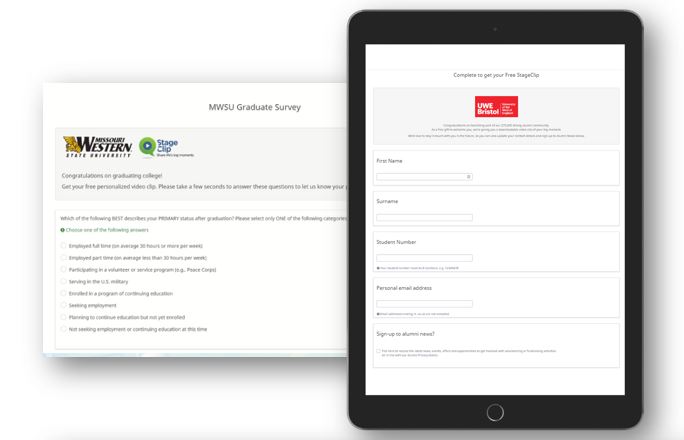 Graduation is a great time to get a forward insight into what's next (careers), how the experience has been (outcomes) and what relationship they want with you for the future (alumni).
Surveys are vital for understanding your audience but they need to be presented at the right time and in the right way.  The last thing you want to do is create a bad emotional connection when your intentions are entirely good.  It's a delicate balancing act.
Generally, short (5 questions or less) and mobile-friendly surveys are the best.  You want to avoid 'fat finger' free text fields where possible.   The exception is when you'd like a personal email address so you can communicate effectively in the future.  Don't forget to put validation in that doesn't accept an ac.uk or .edu email address and crucially let them know this before they start typing!
How can StageClip help?  By giving your graduates an on-stage moment clip, you're creating a powerful emotional connection which means graduates are very happy to share.  The result is that average survey completion rates are currently 72%.   It's a simple set-up and you have access to real-time data at your fingertips.
Harness the Power of Alumni Giving
Altruism, fairness, and reciprocity strongly motivate many people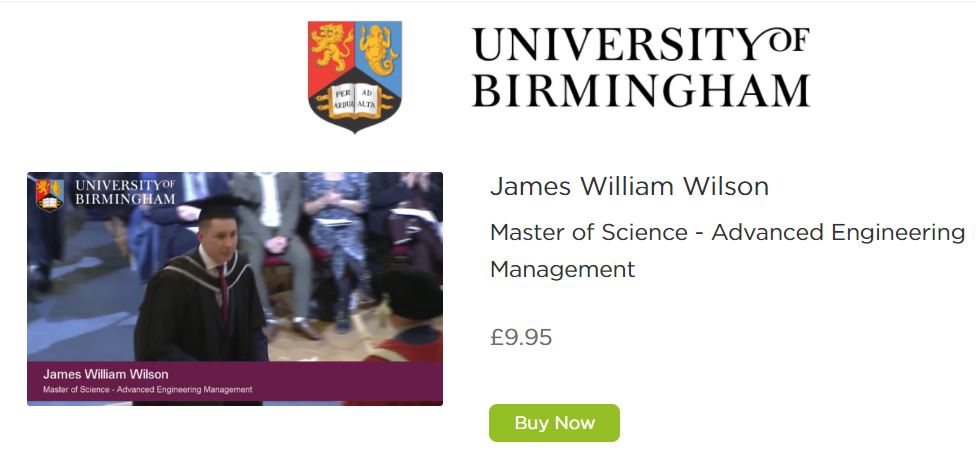 Fundraising is an important element for many institutions.  The psychology behind giving means driving the right emotional behaviors and it's difficult to do when there are so many causes competing for attention.  It's also a long-term game.
You want to sew the seeds at this stage that education philanthropy is a part of the routine of life for those who are fortunate enough to have enjoyed its benefits.  Pay it forward.  At this stage making a relatable tangible link with their life-stage is essential for good long-term engagement.  Eg. A hardship fund, scholarship, or micro-credentials for deserving candidates.
How StageClip can help?  We found that making graduates feel good about something they're already doing is a great way to fundraise.  You can charge your graduates for on-stage clips and let them know the direct impact they're having.  The service is free to institutions and we pay a healthy commission on the sales for your cause.
Incorporate Alumni Engagement Platforms
Build an engaged community effectively
Platforms such as Graduway and Alumanati form the basis of an engaged alumni community.  Your network of ambassadors, mentors, and donors can boost your enrollment, mentoring, engagement, and fundraising efforts.  The trick is to make sure your newest alumni are in the ecosystem in the first place so you can engage relevantly with them at the right time.
Typically the way to do this is to incentivize them with the benefits of joining.  The problem is that at this stage on their journey, graduates aren't aware of just how important the alumni community is.   Competitions, prizes, and gifts are all ways to drive sign-ups.
How can StageClip help?  We know that on-stage moment clips are so compelling that people will jump through several hoops to get the content.  By gating the content on your platform you're guaranteeing more activity than ever before.  All we need is a graduate names list and a graduation video.  Then we'll help you connect the content.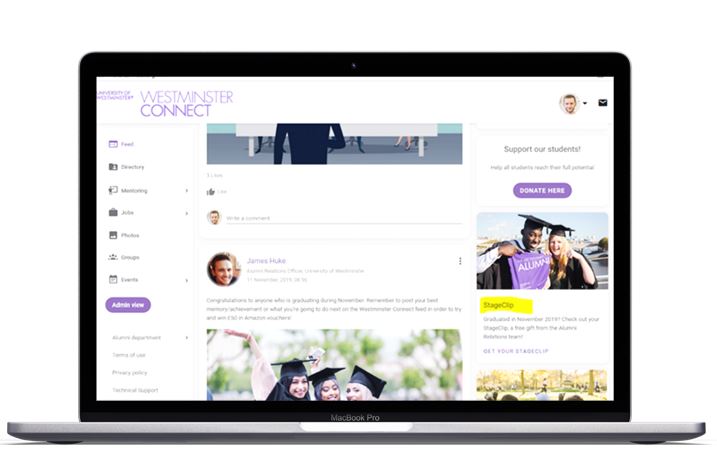 Why StageClip?
StageClip is the world's #1 provider of personalized graduation video. Our platform is easy to implement, affordable, and the return on investment is outstanding. Over 1.4 million clips have been gifted to graduates from their institutions, resulting in over 315,000 hours of footage being viewed by graduates, families, and friends.