Names matter, and mispronouncing them at graduation can create more than disappointment. If graduates' names are mispronounced as they take their final steps as students, you're misrepresenting their individual and cultural identities, making them feel disappointed, disrespected, and excluded. Plus, your commencement speaker enters a nightmare as they fumble and trip over consonants, trying to say each graduates name correctly.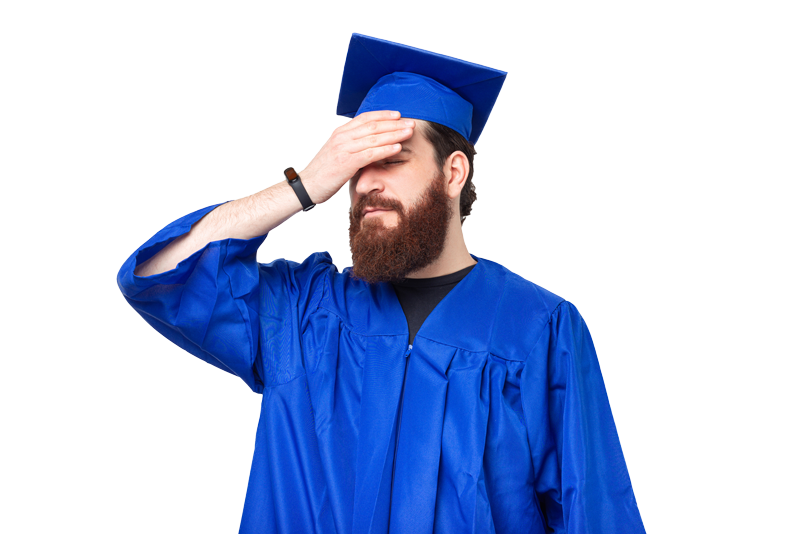 The Importance of Accurate Graduate Name Pronunciation
Correct pronunciation matters most when you're celebrating hard work—and graduation should be a time of celebration, not frustration. Just take a look on social media or Google to find out how much it matters when even the most common, well-known names are mispronounced at graduation ceremonies. From the college grads themselves to angry parents, mispronouncing names at commencement ceremonies strikes a nerve with graduates and family members alike.
Tips to Avoid Mispronouncing Names at Your Next Graduation Ceremony
Explore these tips to avoid graduation name pronunciation mistakes at your college or university's commencement ceremonies, ensuring every grad leaves the stage with a fond memory of their big moment.
1. Give Grads the Chance to Pronounce Their Names Correctly
Start by giving your grads the chance to pronounce their names correctly by sending out a simple form with a pronunciation guide so they can provide you with their name's phonetic spelling. You can also include a step for the grad to guide you to the best pronunciation of their name by asking them to write down very similar or familiar words that sound like their name.
2. Offer to Repeat Their Name Before Repeating It Out
Once your grads provide you with the correct pronunciation, give them the opportunity to hear your ceremony speaker say their name correctly. When your reader takes each grads' name card, have them lean away from the microphone and say the student's name to them. Once the grad repeats or corrects the pronunciation, the reader will then say it correctly into the mic.
3. Avoid Asking for Alternative Names
Many uncommon or unfamiliar names are still considered preferred names by individuals. To prevent your grads from feeling disrespected or excluded, avoid asking to use an alternative name during the ceremony. While a grad may go by a nickname or alternative name when interacting with friends or in class, it doesn't mean they're comfortable using it when they're announced to take their final steps as students. Always use preferred names when announcing graduates at your commencement ceremonies.
4. Use Graduation Name Pronunciation Technology
You can save time and prevent uncomfortable experiences for grads by using graduation name pronunciation technology.
Some tools are free to use, so you can get names right regardless of your institutions' budget.
Our team is ready to help you get every grads' name right at your next commencement ceremony with NameCheck, StageClip's innovative name pronunciation tool.
Let's Go!
Never Mispronounce Graduate Names Again With Our Free Name Pronunciation Tool
With NameCheck, you'll never mispronounce your grads' names again, ensuring they leave the stage with a fond memory of one of life's biggest moments. We use AI technology to give each of your graduates the chance to hear their name read and provide approval or corrections. With our free tool, you can avoid scheduling  one-on-one meetings with your grads to privately correct mispronunciations. Once your grads approve their name pronunciation, your readers can listen, learn, and repeat the names using the correct pronunciation. Our platform also gives you the option to download a recording of each graduates' name pronounced correctly to use live during your ceremony, saving you time and preventing a potentially uncomfortable situation.
"I'm happy to say that StageClip has been a fantastic partner with Gonzaga University, from the right application of their tools and services to providing stellar customer service, even when a mix-up happened on our end.

Angela Ruff

Project and Event Manager, Gonzaga University
Use Our Name Pronunciator In Your Personalized Clips
We use our name pronunciation engine to ensure each grads' name is pronounced correctly in their personalized graduation clip. Our team uses your commencement recording and name list to create a personal graduation clip for each alumni, so every grad gets a keepsake of their walk across the stage. We can also use your current marketing materials to enhance the clips, so there's no extra work for you. Simply send over the footage and materials you already have, and we'll do the heavy lifting for you. Contact us today to schedule a demo of our graduation clip creation platform.